Today is
---

"Our Staff are wearing these Videos out! Residents love them. Great for both high and low functioning.
"Live" performance makes Residents feel they are part of the Video. It's like having extra staff." Heather Hudson, Activities-Rainycrest Home, Fort Frances Ontario.
---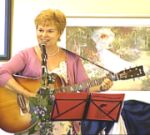 ---
We enjoy the newer songs not available on other sing along DVD's. The Free Songbooks are amazing! Melissa Mallett, Activity Director Gull House –Beebe Medical Center. Lewes. Delaware.

Pricing available
on online forms
Melody Lane Sing Along Volume 5

---

"The Songs of England" is dedicated to the Victorian Order of Nurses (VON) providing health care and community support services in Canada for over 100 years. A portion of profits will be donated the VON to help with their important work.


Georgina Rae

---

We received our DVDs this week and used "Songs of England" for our sing a long on Wednesday. What great choices you made in using these timeless songs! Our residents enjoyed it thoroughly. I can hardly wait to hear the other songs the British Isles Collection! Kelly Scott
Spiritual Care Coordinator
Specialty Care Bradford Valley

Early One Morning
Oh Dear What Can the
Matter Be?
What Will We Do With A Drunken Sailor
Are you Going to Scarborough Fair?
Barbara Allen
Mama's Gonna Buy You a Mockingbird
Greensleeves
Lavender Blue
English Country Garden
The Girl I Left Behind Me
Billy Boy Billy Boy
Long Long Ago
Land of Hope and Glory





---
Web Design: Kraeker Web Kreations -
Best Viewed at 800x600 or 1024x768
---